So, there are many web browsers are available in market. But what we are looking for fastest and safest web browser for our best user experience and privacy protections. so basically, we are going to rate these browsers on the base of safety and user experience.
We all know that when we bought a laptop/mobile all that devices have their own preinstalled web browsers. It's developed by OS developer as for the part of operating system. Like if you are using an android devices or chrome book then you have Google chrome browser. For mac/iOS safari browser. For windows user Microsoft edge and internet explorer. If you think that preinstalled web browser is good or best, then it's not right.
Every web browser has their own limitations and features. So, on the bases of all parameters I short listed some of the best web browsers in the world.
1. Google Chrome
Google chrome browser is best in every parameter and holding its top positions since too many years. It has its own search engine google so you can easily search anything. It's offers you a lots of customization options for your browser look.
Key Features :-
Account synchronization.
Tab optimization.
150000 extensions.
Fast and secure.
Easy to us.
Language translation.
Built-in ad blocker.
Dangerous website blocking.
Automatically security updates.
Theme customization.
Screen sharing.
Available on all platform like windows, mac-OS, iOS, android.
2. Microsoft Edge
After a too many years Microsoft launched a new browser which is enough capable to stay in competition against google chrome and any other top browsers. Microsoft completely changed the experience of internet explorer and created a smarter and faster and lighter web browser.
Key Features :-
Fast and secure.
Less power consumption.
New design and logo.
built-in learning and accessibility tools.
vertical tab view so you can switch your tab from sides.
theme customization.
unique 4K streaming experience.
line focus while you are reading and articles.
easy mange your browser data.
In-Private mode.
Password protections.
Microsoft defender protection.
Extension library.
Available on all platform like windows, mac-OS, iOS, android…
3. Mozilla Firefox
Firefox offers a most comprehensive security and privacy features. So, if you are worry about your data protection then you can use Firefox as a browser.
Key Features :-
Very high secure.
Picture in picture mode for multitasking.
Dark mode.
Protection on HTTPS sites.
Block social media trackers.
Master password.
Ad blocker.
Text to speech.
Web add-ons/extensions.
Auto play blocking.
Browser customization.
Available on all platform like windows, mac-OS, iOS, android.
4. Apple Safari
Safari is the default browser that comes preinstalled on apple devices like iPhone, mac book and mac PC. It has all the basic features which you need in your browser. But when you are comparing it with other browsers it has poor extensions range and lack of customization. You can use it as a casual web browser.
Key Features :-
Faster and more energy efficient.
Privacy and security protection.
Built-in protection against malicious code and malware for websites.
Intelligent Tracking Prevention.
Protection from harmful sites.
Private browsing.
iCloud data synchronization for your passwords, bookmarks, history, tabs and Reading List.
stop auto playing videos.
web extensions
available for iOS devices and mac OS devices.
5. Opera
Opera is different then other browser because it has a sidebar where you can pin your favorite websites, a bookmark link, shortcut of email and chat. You can also hide this menu if you don't want it.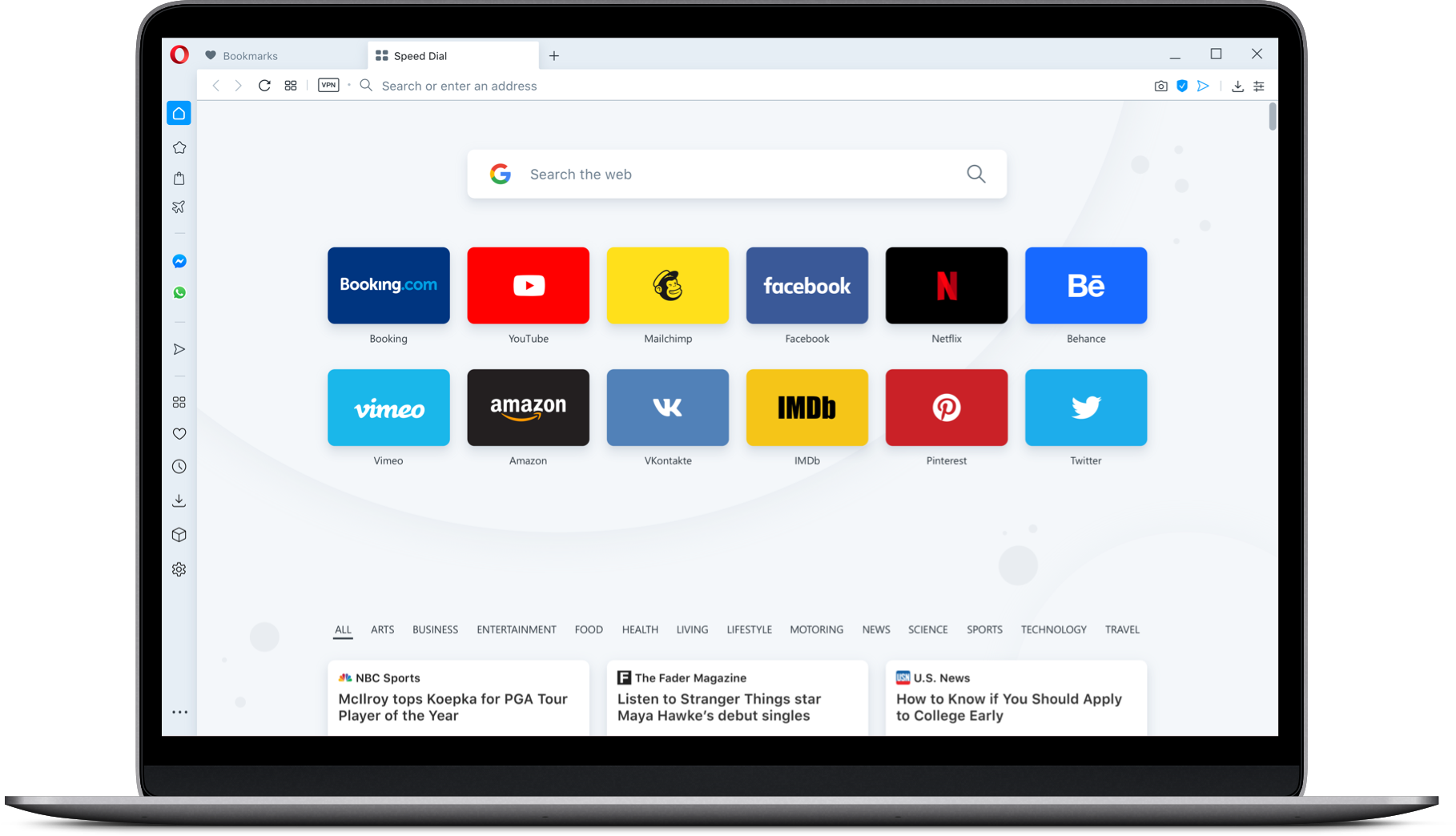 Key Features :-
Browse faster.
Built in ad blocker.
In built free VPN service.
Built in messenger for chat.
Dark and light theme.
Data synchronization.
Battery saver.
Unit converter.
Instagram in sidebar.
Available on all platform like windows, macOS, iOS, android.
So, this are the top 5 browsers. You can choose any of them as per your requirement. We had personally downloaded and tested each of the above browsers for giving you a helpful suggestion.
You can trust us and download it from their official links which are given above. All links are genuine and safe. No advertisement and viruses. We always share official and virus free contains and links to our visitors. For any queries and suggestions write us.