Why virat kohli and other RCB members changed their t-shirt name?
Here is the answer, royal challenge sports drink is running a campaign with #wearechallengers and #mycovidheroes. For tribute the heroes which is served their endless and fearless services to the the nation in the period of COVID-19 pandemic.
Here is the video of this campaign:
Real heroes don't wear capes, but they all have one thing in common – their undying challenger spirit. When tough times came calling and brought the world to a standstill, there were some amongst us who rose to these extraordinary challenges. It's time the world meets our heroes and gets to know their inspiring stories. Here are our Royal Challengers paying tribute to these Real Challengers! #WeAreChallengers #MyCovidHeroes #ChallengeAccepted
Virat Kohli : Simranjeet
Virat Kohli changed his jersey name and DP to Simranjeet Singh.He approached people to raise donations 4 the poor suffering in the pandemic and many Deaf individuals agreed. These individuals weren't from any particular organisation and they selflessly donated funds. Simranjeet Singh along with his friends raised Rs 98,000 to help people.
Ab de Villiers :

Paritosh Pant
Ab de Villiers changed his username to Paritosh Pant, Mumbai based restaurant owner who fed 3000 people (Daily Wage earners and their family members) twice a day as a token of respect. Also, he's going to wear the Jersy Written PARITOSH PANT's name on it today.
Yuzvendra Chahal

: DR Nayak
Dr Sachin Nayak who has been staying in the car for the past seven days to protect his family from corona virus.
Parthiv Patel

:- Swati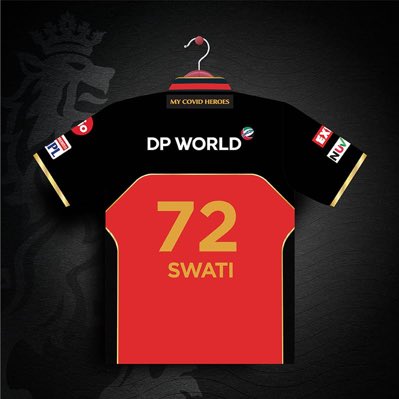 Captain Swati Raval who opens for flying air India flight. Which is recused 263 passengers from Rome to Delhi.
So, they are putting their name on their t-shirt and wearing at match.